Mobile Search to Become a Ranking Factor in Google's Algorithm
March 2, 2015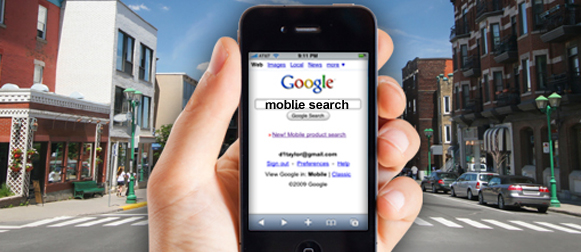 Google just announced two major updates to the search algorithm that will mean better rankings for mobile-friendly sites. Beginning on April 21, 2015, Google will start to include mobile-friendly factors in its rankings, allowing sites that are optimized for mobile search to rank higher for searches done on a mobile device. In addition, starting immediately, Android apps that are indexed by Google through App Indexing will also rank better in mobile search.
Google expects these change to have a "significant impact" on mobile search results globally and across all languages. They are postponing the mobile-friendly ranking update until April to allow webmasters enough time to prepare. Sites that are not currently optimized for mobile search must now, more than ever, pay attention to Google's increased emphasis on mobile optimization.
As it is, these two updates indicate a rapid and important shift on the search engine's part in responding to the growing number of searches that come from smart phones and tablets. As recently as January, Google began sending warnings to webmasters whose sites were not optimized for mobile, yet there was no indication that this was soon to become a ranking factor.
Still, this news does not come as a surprise to experts who have already been following the sustained uptake in mobile search in the last few years. Using mobility as a ranking factor seems like a natural progression for Google as we finally enter what many believe to be the "year of mobile."
Have We Entered the Year of Mobile?
Digital marketing experts across the web are proclaiming 2015 the year of mobile. It's been obvious for some time that trends in mobile search are on the rise: the percentage of web traffic driven by users on mobile devices has increased steadily over recent years, with consistent and sustained growth indicating that these patterns are likely to continue. In fact, VentureBeat has predicted that by 2016, mobile search queries will account for 61 percent of all site visits on the web.
As marketers, we've been hearing for a while now that each new year is the "year of mobile", but these latest updates from Google mark a definitive new phase in web marketing. Not only are the trends speaking to themselves, but Google is responding by further integrating user behavior into search results to account for people searching more frequently on their mobile devices. The fact that Google has now incorporated mobile-friendly factors into its rankings, after years of speculation about the future of mobile search, proves that we are in fact in the year of mobile.
Mobile Tips for the Current Search Landscape
User experience is crucial to an effective mobile SEO strategy: ensuring that the content on your site displays correctly, not only on desktop, but across mobile devices. Neatly displayed, easily accessible content is key to mobile success. Think about how people are searching using their phones. They are on the go. They need quick answers. They need rich, visually stimulating content that won't require them to slow in their pace to navigate dense text or a clunky layout.
To accommodate users without having to create multiple versions of the website, most sites turn to responsive design. A website built with a responsive design can "respond" to the type of device from which it is accessed. It's layout can seamlessly adapt to display correctly on that device–be it a desktop computer, tablet, or smartphone. Content renders in different sizes and layouts depending on the size and orientation of the screen, so that users can interact with the same content regardless of their device. Content is easy to manage, and this eliminates the need to create multiple pages for multiple domains, thus keeping the page and link authority of the original site.
A responsive design is essential to the mobile user experience. When designing across devices, you should make sure that your site navigation is clean and not overly complex, and  prominently display key contact and location information. Your content should be easily digestible, and should incorporate a variety of both written and multimedia content.
Building a website around mobile is no longer just an option. A mobile-friendly, responsive design should be at the forefront of your web strategy if you want to compete in the growing mobile search market. Some actually argue that mobile optimization is more important than your focus on desktop. Forbes contributor Jayson DeMers even suggests that mobile should be your priority. According to DeMers, "the industry standard used to be to create a design that worked on standard computers, then to ensure it was accessible via mobile. However, many leading design experts are now suggesting that good design means concentrating on mobile first, and desktop second."
It is one thing to hear about how mobile is changing the search landscape as a whole, but what does that mean to your own site? How much should mobile search inform your web strategy? In all likelihood, the answer is probably "a lot", but don't just listen to the industry's take on the issue.
In order to truly understand how mobile search affects your site, and how to leverage this growing market, spend some time gaining insight into your own audience. Dive into Google Analytics to see how many of your visitors access your site from a mobile device. Do they use smart phones? How long do they stay on your site from their mobile device, and what kind of content are they consuming? Analyzing this data will help you serve your audience's mobile needs by understanding their behavior and tailoring your content to provide the most value to them.